Today's post was inspired by a segment I saw earlier this morning while watching 'Sunday Morning' on CBS with Tom and Liz. The Embroidering Royalty special highlighted work being done at England's Royal School of Needlework, focusing on hand embroidery. I decided to look a bit more into needlework art, and was amazed at what I found!
There are some extremely talented artists making insane needlework portraits. Artist Cayce Zavaglia was recently featured on Elle Decor for her hand embroidered portraits.

The hand embroidered portrait below by Daniel Kornrumpf is equally as impressive.
Liz enjoys hand embroidering (I'll have to show you the felt embroidered baby onesies she recently made for a friend's baby shower)… I don't think she'll EVER make a masterpiece like this though!
All of this hand embroidery got me interested in embroidered items for the home. Lauren from Lauren Elise Crafted put together an awesome list of 19 stitched home accessories. Below are just a few of my favorites from her list…
1.) Woven Cushion Cover from Karen Barbe Textileria.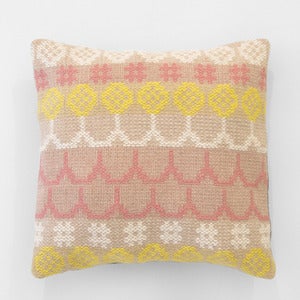 2.) Large Continual Carets Shade from Anthropologie.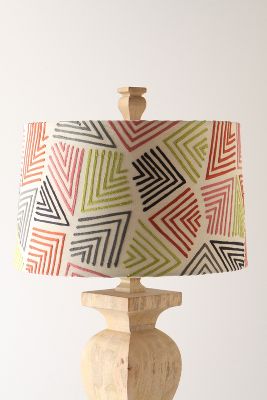 3.) Re-Used Plastic Vase with Embroidery by Salongruen.
 4.) Cross-Stitch Heart Gift Tags by Leobella Boutique.
I just love embroidered home accessories! Sweet little hand embroidery hoops, such as the Polaroid by Moxiedoll below, could make any wall more interesting.
Just as exciting to me are stitchings that aren't truly stitchings… Check out the "cross-stitched" wall painting below, featured on Bloesom.
Best of all… Cross-stitched cookies — a Design*Sponge DIY!!
Time to convince Tom and Liz to make this out of doggie biscuits :)
-Charlie