Liz and Tom are dogwatching Henry this weekend, so we didn't go on our usual Saturday morning walk and garage sale hunt… So I'll share an antique dresser that they found a couple of months ago instead. Right when Liz saw it, she knew it would be perfect for my Auntie (who just recently bought a townhouse and has been looking for extra bedroom furniture).
Isn't it awesome?! It definitely needed some love — there were all sorts of scratches throughout, and it was missing a piece of decorative trim between the bottom two drawers. But it's a sturdy piece with beautiful lines! And the best part?! It was only $5!!! The people selling it were just trying to get rid of it as soon as possible, so Liz and Tom didn't hesitate to snatch it up.
Auntie's already refinished it (stop back by tomorrow and I'll show you what she did to it!). If she didn't need the extra bedroom furniture though, I DEFINITELY would have campaigned to have it as a bathroom accent piece. Check out the lovely bathroom dressers below!
Or even better — antique dressers turned into bathroom vanities! I know some of these are actually buffets-turned-vanities, but I just had to include them :)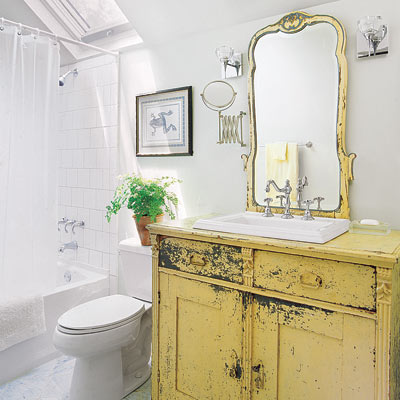 {Sources: MMOH, BHG, Young House Love, Our Happy Little Nest, Honeycomb Creative Co, This Old House, Heather Bullard, For the Love of a House, BHG}
Hope you're having a good weekend! Don't forget to stop back tomorrow to see my Auntie's refinished antique dresser :)
-Charlie